All it took was one versatile haircut, and voila. The seeds for "Warpaint," a nuanced art project addressing the subtleties of gender expression, were planted.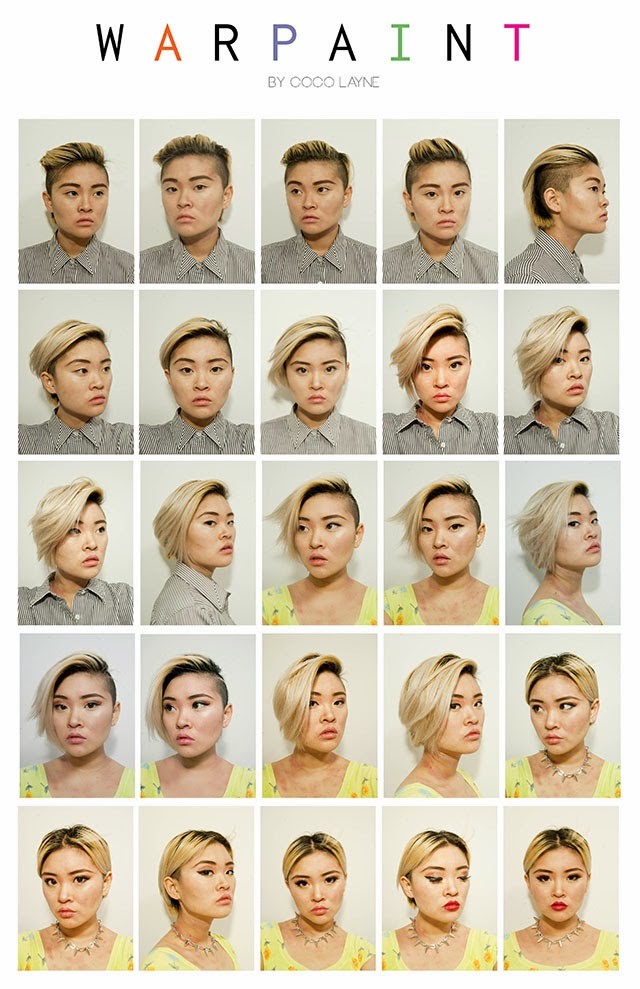 The photography series is the brainchild of artist Coco Layne, who, after buzzing the sides of her head, realized that simple changes in the way she styled her hair could impact her own gender representation. She thought particularly about her experiences applying for jobs last year, and how presenting herself as a "more conservative, feminine candidate" helped her land a position at a women's retailer.
"I'm a relatively feminine person most days, but I had both sides of my head shaved at the time," Layne recounted in an email interview with The Huffington Post. "Without makeup, I looked more masculine than I did before, and the hair I had wasn't long enough to part down the middle. I ended up wearing a black bob wig and a lot of make up to the interview."
She got the job and eventually revealed her real hair to her managers; they were comfortable with Layne's platinum blonde hair split down the middle ("shaved sides hidden, of course"). The job was temporary, but the memory of the way she toyed with gender presentation during that time inspired "Warpaint," a sequential photo series that explores the ways in which small changes in hair styles, makeup and clothing interacted with identity, perception and queer visibility.
"I identify as a femme queer woman. On any given day, I fall somewhere on the third or fourth row [of the "Warpaint" collage]," she explained. "Sometimes I'll feel like being super femme and I'll wear a lot of eye make up and lipstick while on other days I won't do anything besides fill my brows in. I love makeup because it allows me to play with my presentation."
read the full article on Huffington Post.